FlightPath Feature List
FlightPath is a full-featured academic advising system! Below are features which come with FlightPath "out of the box," though keep in mind you can extend FligthPath even more by installing modules.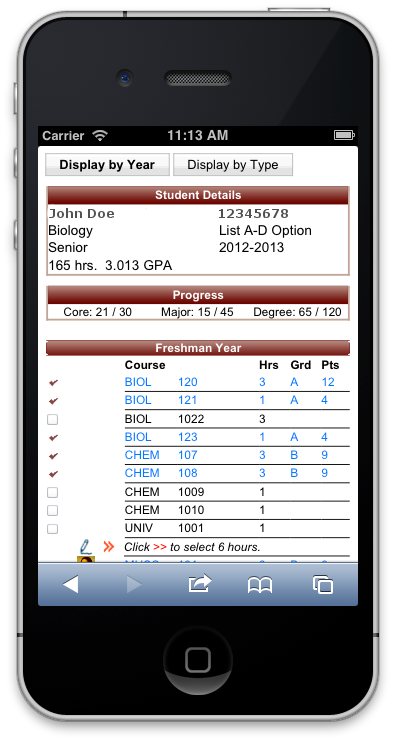 Accessibility & Design
FlightPath works perfectly from all major browsers: IE, Firefox, Chrome, and Safari
Mobile-ready with an included specialized mobile template
Easy to add new templates for branding, or for the visually impaired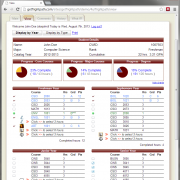 Student Features
View degree plan requirements, and see their progress through their degree
See final grades, as well as midterm grades
See GPA and hour requirements, broken up into categories
See complete history of advising sessions
View courses their advisor advised them to take
View comments left by their advisor
View/Search through course descriptions

If configured, view course scheduled offerings and sample syllabi per course

Optimized for viewing on mobile phones, like Android and iPhones
Faculty / Advisor Features
Search for advisees, as well as see advisees already assigned to them
View a student's degree plan, showing their requirements for that degree and their progress through the degree
Advise a student which courses to take, even several semesters into the future
View the student in another major, if the student is thinking of switching majors
See transfer credit equivalencies for local courses automatically applied
Perform substitutions or exceptions for student courses
Leave comments for students or other faculty only
See complete history of advising sessions, and who advised what and when.
Assist in degree audit procedures
Administrator / Technical Features
Robust and secure permission system for a very fine level of control over who is allowed to do what in the system
Easy system for degree plan requirements input
(If using Banner), mostly-automated import of Banner data, via the Banner Integration module
Completely open source (GNU GPL v3), and designed for customization and easy updates
Basic system requirements
Core 5.x Releases
Sorry, there are no 5.x releases at this time.